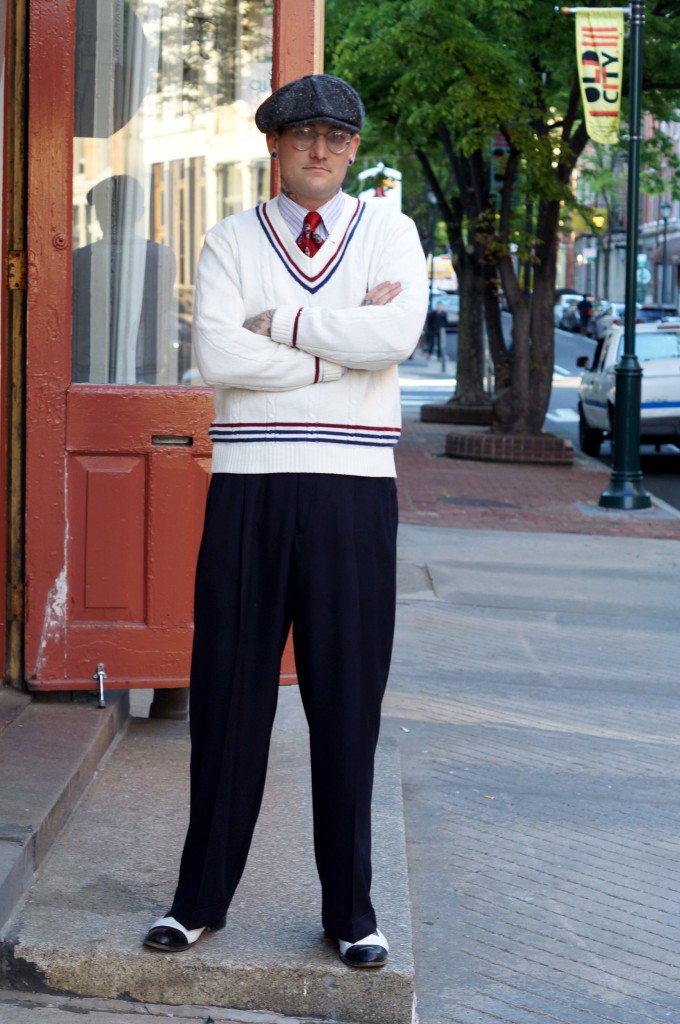 I ran into David on 3rd Street, outside of Briar Vintage, and I really enjoyed chatting with him about vintage clothing, the workwear trend, and how he got into the vintage aesthetic. He's one of the partners at Briar Vintage. He's really happy to work there: "I used to dig ditches for a living, and now I get to put a tie on." He told me that the shop is only one of four shops that he knows of on the East Coast that sells only pre-1970s vintage menswear.
Because of his height, he mixes and matches vintage and modern pieces. It's hard to find all vintage pieces that fit taller people. His pants and shoes are modern, but made by companies that have been around since the 1920s. He's also wearing a vintage Brooks Brothers shirt with a 1940s tie and a vintage Fred Perry shirt. His glasses are also vintage workwear that he found with green blanks in them. His eye doctor was able to pop out the blanks and insert prescription frames.
"I grew up and saw the way men were supposed to dress — suits and ties. But when I was coming up, the counterculture thing was to get heavily tattoed, so I have hand and neck tatts everywhere. But these days, what's more counterculture than putting on a neck tie and a jacket?" He added, "It's cool that people are championing the uniform of the American worker, because I used to be one."
Outside of work, he likes to go swing dancing, see punk rock shows, go to vintage-themed events, and hang out with his friends.
When he was young, he told his grandfather that he wanted to dress like the swing dancers, so his grandfather took him to Goodwill. His first suit was a "three-roll, two-peak lapel with a double breasted waistcoat, same stuff you see in Boardwalk Empire."